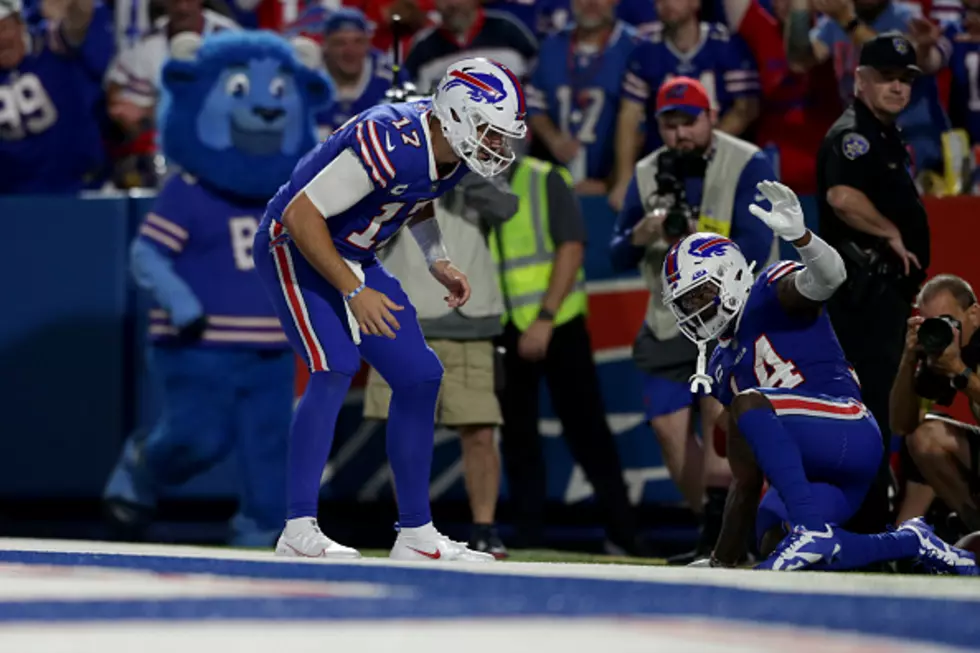 Josh Allen and Stefon Diggs Christmas Cards Coming Soon?
Getty Images
The best duo (arguably) in the NFL right now is Buffalo Bills quarterback Josh Allen and wide receiver Stefon Diggs.
Since Diggs was traded to the Bills in March of 2020, the two have had immediate chemistry and it feels like they were meant to play together.
Diggs has caught 250 balls in 35 regular season games. He's made the Pro Bowl in the last two seasons and was named an All-Pro in 2020. He's also now the only player, other than Jerry Rice, to catch 3+ touchdown passes in two Monday Night Football games, which Diggs did on Monday against the Titans and in December of 2020 against the Patriots.
Allen and Diggs are friends off the field and on Tuesday, the Bills star wide receiver appeared on The Rich Eisen Show.
Diggs says that he feels like he could grow old with Allen and that he's also working on getting Christmas cards with the two of them on it.
You can watch his clip below.
Diggs has already caught 20 passes and four touchdowns through two weeks this season and will look to catch another touchdown or two against the fellow 2-0 Miami Dolphins this Sunday.
The Bills will have to contend with the likes of Tyreek Hill and Jaylen Waddle, who can take the top off the defense and burn teams with underneath routes as well. They're coming off an historic comeback against the Baltimore Ravens and it should be the game of the week in the NFL.
Best Free Agents Signed By The Buffalo Bills
The Buffalo Bills are gearing up for a run at the Super Bowl next season and some big-time free agents are already reaching out to the Bills looking to join the team. Check out some of the best free agents the Bills have signed in the past.
Bills Mafia's Wishlist For The New Buffalo Stadium
The Bills are building a new stadium and here is a wishlist from Bills Mafia.
17 Recipes They Have To Put In The Bills New Cookbook