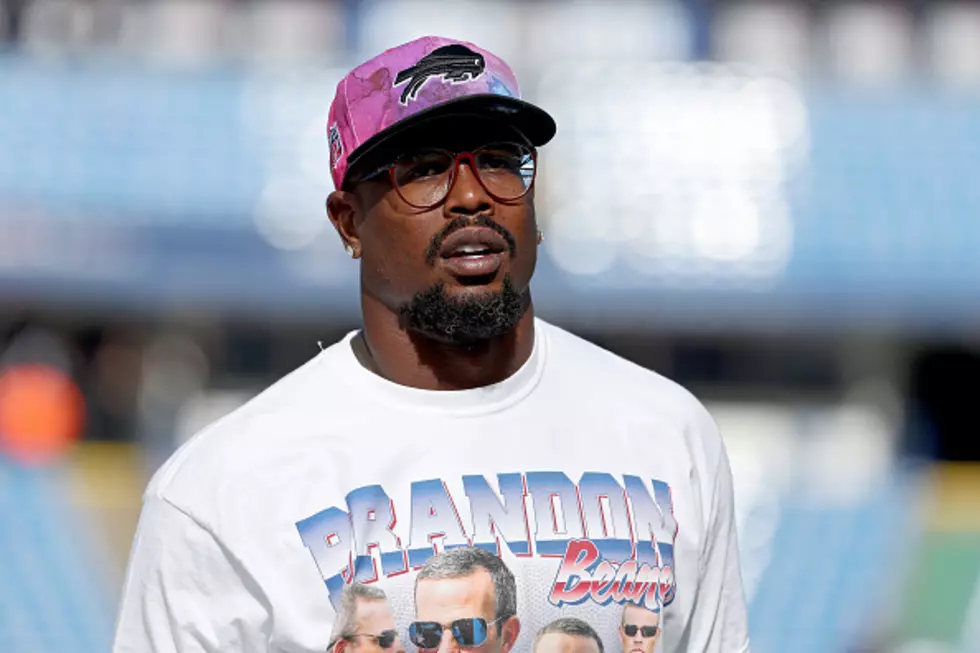 Buffalo Bills Fans Can Now Buy the Famous "Brandon Beane" T-Shirt
Getty Images
Buffalo Bills edge rusher Von Miller was the missing piece to an already Super Bowl-ready roster.
The veteran star signed a six-year contract with Bills back in March and he's already proving to be an amazing player and teammate.
Miller is tied for the team lead with four sacks in the first five games of the season (Greg Rousseau also has four sacks) and his support of past Bills players and front office personnel is making Bills Mafia love him.
Before every game, Miller rocks a t-shirt of a famous Bills player, past or present, or in the case of yesterday, the Bills all-star general manager.
Miller was seen wearing a Brandon Beane shirt before Sunday's game against the Pittsburgh Steelers. It said "BBB," standing for "Big Baller Beane."
Bills fans wanted the shirt and asked if they can purchase it? Turns out, they can, and can buy the other shirts Von Miller's been sporting this season.
The shirts are manufactured by a company called Dreamathon.
This is courtesy of Rachel Hopmayer of Spectrum News Buffalo.
The shirts will cost you though, as they cost $65 for one.
They're so cool though. These are shirts Bills fans would probably wear all day long and let's be honest. we have too many Bills shirts, sweaters and jackets in our closet.
Miller will be asked to deliver in the biggest game of the season next week, as the Bills travel to Arrowhead Stadium to play the Kansas City Chiefs at 4:25 pm.
The Chiefs have a chance to go 4-1 tonight, as they host the Las Vegas Raiders on Monday Night Football.
25 Things You Need To Do in Buffalo This 2022 Fall Season
The best 25 things to do in Western New York this 2022 fall season.
25 Underrated WNY Restaurants You Need to Visit
So many hidden gems in Buffalo for food. Here are 25 places you should be visiting.
The 25 Perfect Fall Restaurants in Western New York
The best restaurants during the fall in Buffalo and Western New York.