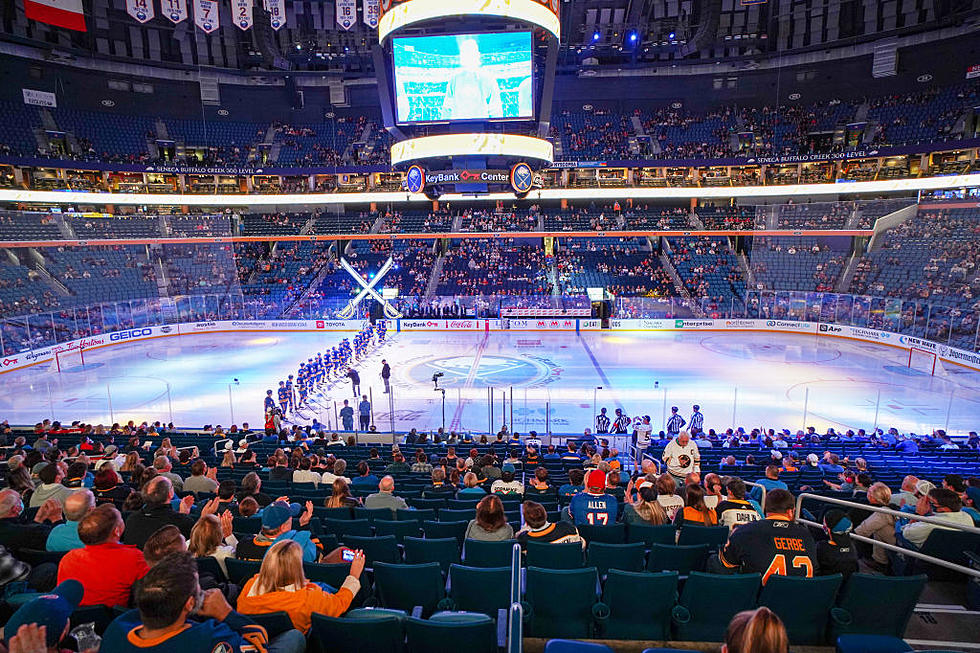 FREE Giveaway Buffalo Sabres Are Giving 15,000 People Tomorrow
Getty Images
The first 15,000 people that go to Buffalo Sabres Fan Appreciation Day will get these cool grey, Buffalo throwback goat-head shirts with all of the current Buffalo Sabres players named inside of the goat head.
Buffalo Sabres Fan Appreciation Game
Buffalo Sabres host Ottawa Senators 
Thursday, April 13, 2023
There are still plenty of tickets, as of today, available for the Fan Appreciation game against Ottawa. You can get your tickets here.
There is ANOTHER Sabres appreciation day! The KIDS Appreciation Day is coming up this weekend. On Saturday, April 8 at 12:30 PM against Carolina at Key Bank Center.
Buffalo Sabres KIDS Appreciation Game
Buffalo Sabres host Carolina Hurricanes 
Saturday, April 8, 2023
The first 5,000 kids will get a blue Buffalo Sabres pop-it.
There are still tickets available for the Kids Appreciation Game. They start at $51. That price includes the service fees.
It's not looking too good for the Buffalo Sabres right now.
According to PlayoffStatus.com, the Buffalo Sabres have a 1% chance of securing the 7th wild card seed in the Eastern Conference and a 3% chance to secure the 8th spot. It also notes that there is a 97% chance, obviously, that the Buffalo Sabres DO NOT make the playoffs. With just over a week to go in the National Hockey Leauge season, we will see what the future holds for the Buffalo Sabres.
Buffalo Sabres Goalie Masks
Take a look at some amazing Goalie Masks in Buffalo Sabres history.
Top 10 Most Underrated Buffalo Sabres of All-Time