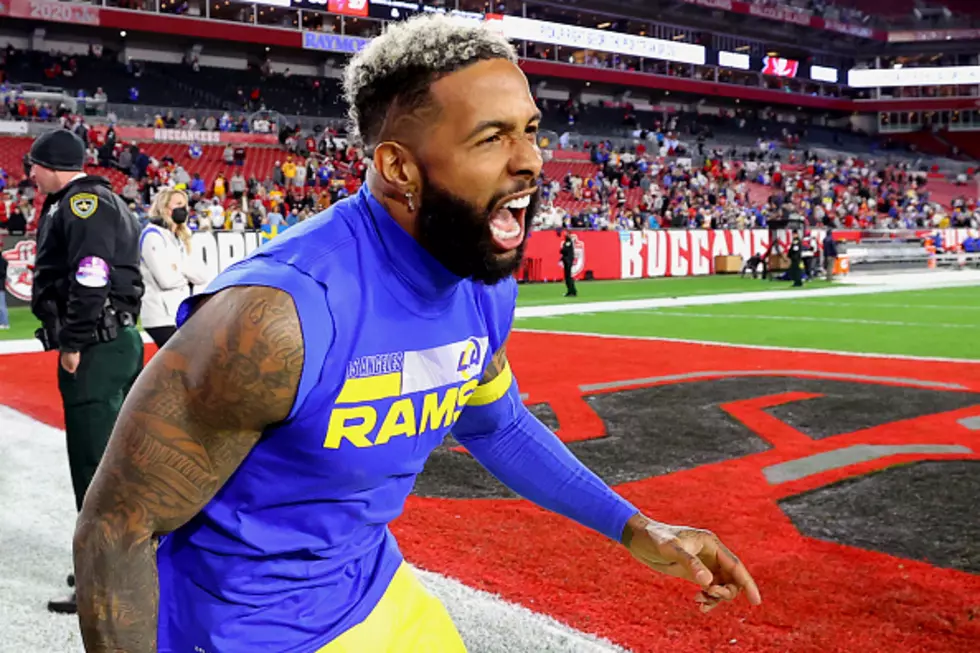 Buffalo Bills Chances to Land Odell Beckham Jr. Fall Dramatically
Getty Images
It's amazing what one Sunday can do in terms of fan morale towards your NFL team.
The Buffalo Bills were 6-1 and the widely regarded best team in football on Saturday, then after a loss to the New York Jets and staring quarter Josh Allen suffering an injury, plus edge rusher Greg Rousseau being declared week-to-week with an injury, those good feeling dropped a few pegs.
The Bills loss on Sunday was a bit of a wakeup call, although the clearly missed linebacker Matt Milano and safety Jordan Poyer against the Jets, especially Milano. They had too many missed tackles and missed assignments that usually doesn't happen when Milano plays.
The Bills loss on Sunday and uncertainty of Allen's injury also hurt their chances of landing the most prized NFL free agent at the moment.
Wide receiver Odell Beckham Jr. is expected to be cleared this week, according to NFL on FOX's Jay Glazer, which means the bidding war will soon start.
However, even though the Bills were one of the top two or three front runners last week, their odds have fallen dramatically after Sunday's loss and Allen's injury.
Bookie dot com has the Bills tied for the sixth best odds at +1200 to sign OBJ.
Usually, the odds for these betting lines are done for a reason and perhaps they know something we don't.
However, we still do not know just how much interest the Bills have in OBJ.
Bills general manager Brandon Beane said on Adam Schein's podcast last week they have talked to Beckham Jr's agent but it's not clear what level of interest the Bills or OBJ has, even though for teammate Von Miller is recruiting Beckham Jr to come to Buffalo.
One thing's for sure, the Bills need one more weapon at wide receiver; that was evident on Sunday when the Jets eliminated the middle of the field and forced the Bills receivers after Stefon Diggs to beat them near the sideline.
15 Things You Should Never Do at a Bills Home Game
Things that are a no-no to do at a Buffalo Bills home game.
20 Unique Shirts The Biggest Bills Fans Will Love
Whatever your style - classic, retro, funny, or chic - these shirts that you can get on Etsy are way better than the basic Bills merch in the team store.
22 Famous Buffalo Sports Phrases Every Die-Hard Bills and Sabres Fan Knows
Being a sports fan in Buffalo is sometimes like knowing a different language. Here are 22 of our favorite Buffalo sports phrases you already know if you're a huge fan! And if you're new here, here's how to catch up.