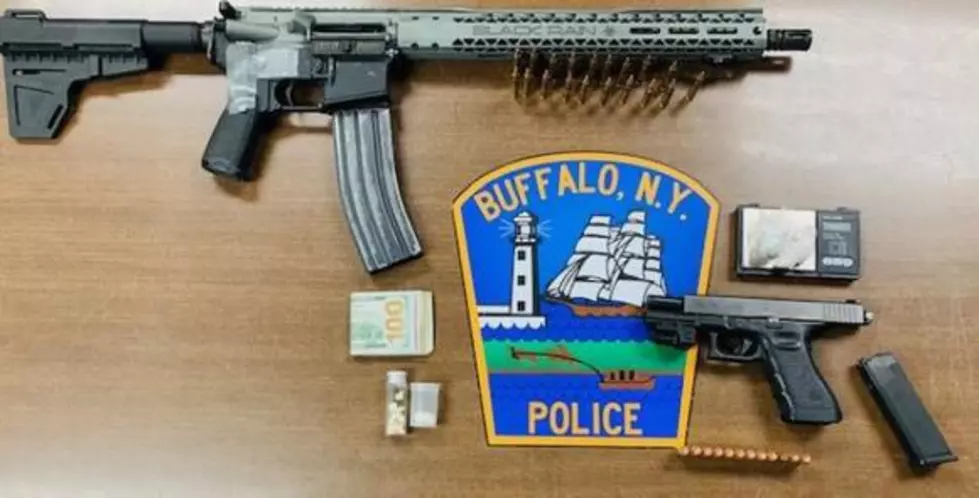 Buffalo Police Arrest 3 People For Guns And Drugs
Buffalo Police Department
Officers with the Buffalo Police Department arrested three people for possessing guns and drugs. Police executed a search warrant on Duerstein Street in Buffalo. The three people are facing charges after weapons and drugs were found during the search. Officers discovered small amounts of fentanyl and cocaine. They also found a loaded M4/AR-15 style rifle with a high-capacity magazine and a loaded Glock 22 with a fully-automatic switch, according to WIVB Channel 4.
The three people arrested were 24-year-old Aaron Watson, 19-year-old Quandre Colston, and 18-year-old Tyrese King. All three are from Buffalo. They were each charged with two counts of second-degree criminal possession of a weapon, one count of third and fifth-degree criminal possession of a controlled substance, and one count of criminally using drug paraphernalia in the second degree. Watson received an additional charge of fifth-degree criminal possession of a controlled substance.
Police In New York State Have Seized A Massive Numbers Of Guns
Police across New York State are taking crazy amounts of firearms off the streets. Governor Kathy Hochul announced on Sunday, August 7, 2022, that the increase in gun seizures by New York State Police is huge. The State Police Gun Trafficking Interdiction Unit says part of the increase is due to the bust of a large gun trafficking ring.
New York State Police Report 104 Percent Increase In Gun Seizures
Gov. Hochul also announced that she secured $2.5 million to add an additional 14 positions to the State Police Gun Trafficking Interdiction Unit for the fiscal year 2023. Gov. Hochul said,
We continue to make real progress in our aggressive fight against the gun violence that has plagued New York. Through our support for the new State Police Gun Trafficking Interdiction Unit, we are focused on investigating and bringing to justice those who are trafficking guns into the state and selling them illegally to other criminals who are intent on circumventing the state's gun regulations. I was proud to help secure $2.5 million in State Budget funding for this specialized unit to support their critical work, and today we send a strong message to gun traffickers everywhere: we will hold them accountable for their role in bringing violence to our streets and will continue to seize illegal guns.
Violent Gun Crimes Are The Worst In These 11 New York Counties
8 of the Most Dangerous Drugs
The 10 Most Stolen Vehicles In New York State