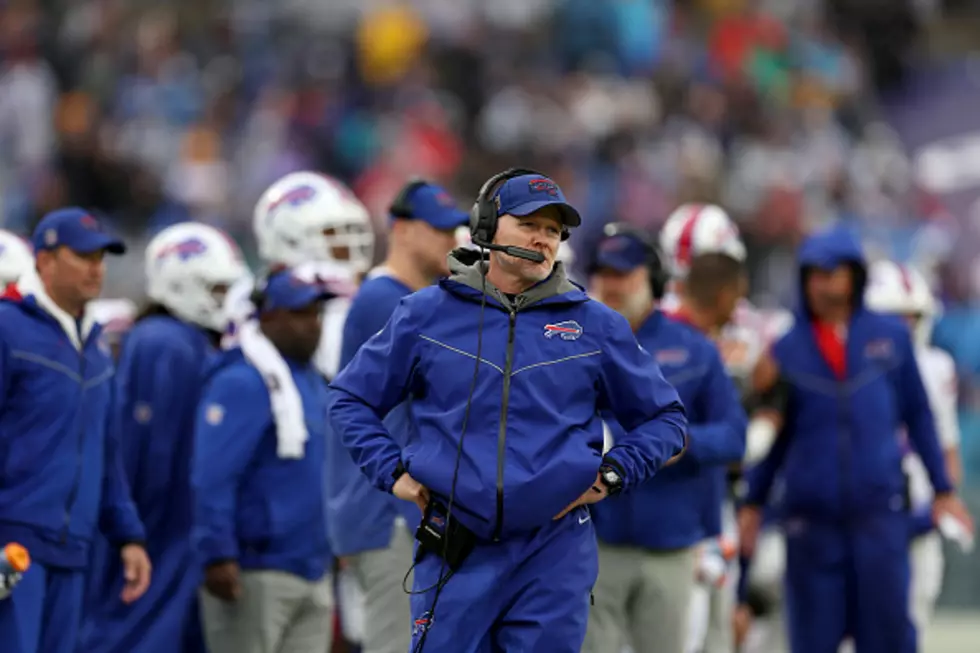 Report: The Buffalo Bills Contact Team For Potential Big Trade
Getty Images
The Buffalo Bills are arguably the best team in the entire NFL and after Sunday's week 5 game blowout win over the Pittsburgh Steelers, that's probably true.
In fact, the AFC has not looked as impressive as we thought it would back in August.
The AFC West has been a disappointment, as the Denver Broncos have been a mess at 2-3 and the Las Vegas Raiders are 1-3 and have struggled on offense. The LA Chargers have been severely impacted by injuries.
The Bills are at the top of the AFC standings at 4-1 and after this Sunday's coveted matchup against the Kansas City Chiefs, the Bills schedule looks far easier than the first six weeks of the season.
However, injuries have taken its toll in the last three weeks, as Micah Hyde and Tommy Doyle were lost for the season, while Jamison Crowder is out indefinitely (IR) with a broken ankle.
Dawson Knox, Isaiah McKenzie and Jordan Poyer all missed week 5 against the Steelers and Tre'Davious White is still on the PUP list.
The Bills are still playing at an extremely high level and they will surely be buyers at the November 1st, NFL Trade Deadline.
On Monday, the Carolina Panthers fired head coach Matt Rhule and defensive coordinator Phil Snow after a 1-4 start, which likely signifies they will look to sell off veterans and build for the future.
The Bills were reportedly interested in Carolina running back Christian McCaffrey in the off-season and according to a report from NFL journalist Michael Balko, the Bills have contacted the Panthers regarding McCaffrey; they're one of a few teams who have reached out.
Benjamin Allbright confirmed teams have called the Panthers today and while he thinks McCaffrey won't get moved before the deadline, if he does Allbright thinks it's the Bills who acquire him.
Dan Fetes of 13 WHAM in Rochester also confirmed the Bills called today regarding McCaffrey.
Update:
Dan Fetes just tweeted that the Bills responded to his report and said they have not reached out to the Panthers regarding McCaffrey.
The NFL Network's Tom Pelissero also reported the Bills have not reached out about McCaffrey.
The Bills have limited cap space but McCaffrey's base salary is only $1.035 million in 2022 and any team trading for him would only be on the hook for that remaining salary. His base salary skyrockets in 2023, however, so any team trading for him would likely restructure or release him.
It's easy to say "yes, go get him" but we still don't know how serious or willing the Panthers are in trading McCaffrey before the deadline. However, for those who say "the Bills don't need him," that ultimately may be correct, but for a team who passes the ball so much and is so predicated on offensive production, the best run-pass catch back in football would be a fantastic addition, even if just for down the stretch.
Another aspect is who else would want to trade for McCaffrey?
The Kansas City Chiefs once again, appear to be the biggest threat in the AFC to the Bills and McCaffrey would absolutely be an asset the Chiefs would want.
Kansas City does not have Tyreek Hill anymore and while McCaffrey isn't Hill, he would be a far better option than their current running backs and it would be scary to imagine McCaffrey in an Andy Reid-schemed offense.
We will have to wait and see what happens but if McCaffrey is truly on the market and will be traded to someone by Halloween, keeping him away from Kansas City might be as important as acquiring him.
Bills Lover's Dream House For Sale & It's Not Even In Buffalo
22 Famous Buffalo Sports Phrases Every Die-Hard Bills and Sabres Fan Knows
Being a sports fan in Buffalo is sometimes like knowing a different language. Here are 22 of our favorite Buffalo sports phrases you already know if you're a huge fan! And if you're new here, here's how to catch up.
The Top 30 Beef on Weck Restaurants In WNY
The 30 best places for beef on weck in Western New York.