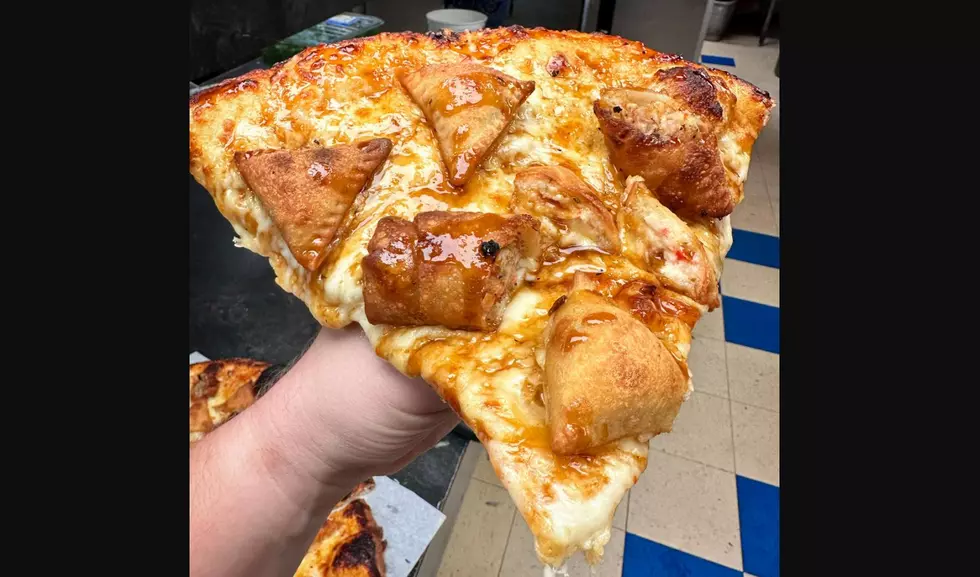 Crab Rangoon Pizza Goes Viral in New York State
Credit: Macy Place's Pizzeria
The capital of pizza in the United States is New York City, or at least that's what many people consider the pizza capital.
Across the state is another pizza metropolis in Western New York, which is Buffalo.
Buffalo pizza is probably the most underrated pizza style in the entire country. You hear all about New York City, Chicago, even others like Detroit, Old Forge and New Haven; but Buffalo-style pizza is unlike anything.
Slightly thicker crust than New York style. Extra cheese. Sweeter sauce. Cup-and-char pepperoni and toppings served out to the crust edge in many places. You also can get a blue cheese cup with your pizza, which Buffalonians love to do.
However, one pizzeria in Western New York is known for crazy concoctions when it comes to pizzas and their latest may be the craziest of them all.
Macy's Place Pizzeria in Cheektowaga introduced their brand new, crab Rangoon pizza, which also included eggrolls,.
It comes with a sweet orange chili sauce and sweet garlic teriyaki drizzle.
Crab Rangoon is a popular Chinese food dish, which is usually a pastry filled with crab meat and cream cheese. It's a common order as an appetizer and now, it has its very own pizza.
Buffalo pizzerias usually have larger menus than other pizzerias around the country. It's very common to find salads, tacos, burgers, fried chicken dinners, lasagna and other dishes at a popular pizzeria in this part of the state.
And now, crab Rangoon (and eggrolls).
13 New York Restaurants Make List Of Food Networks Best Pasta In The Country
Food Network recently published a list of the "
98 Best Pastas In The United States
" and honored New York State with 13 shout outs. Even within that shoutouts, Syracuse and Upstate New York had 2 slots.
They broke the list down to specific dishes you can enjoy at these restaurants. Here's those restaurants on the list:
The Top 40 Pizza Places in Western New York
The best pizza spots in Buffalo!
26 Iconic New York Foods That Make Our Mouths Drool
There is no food comparable to New York food and we're here to prove it with 26 New York dishes that will make your eyes grow big and your mouth water.