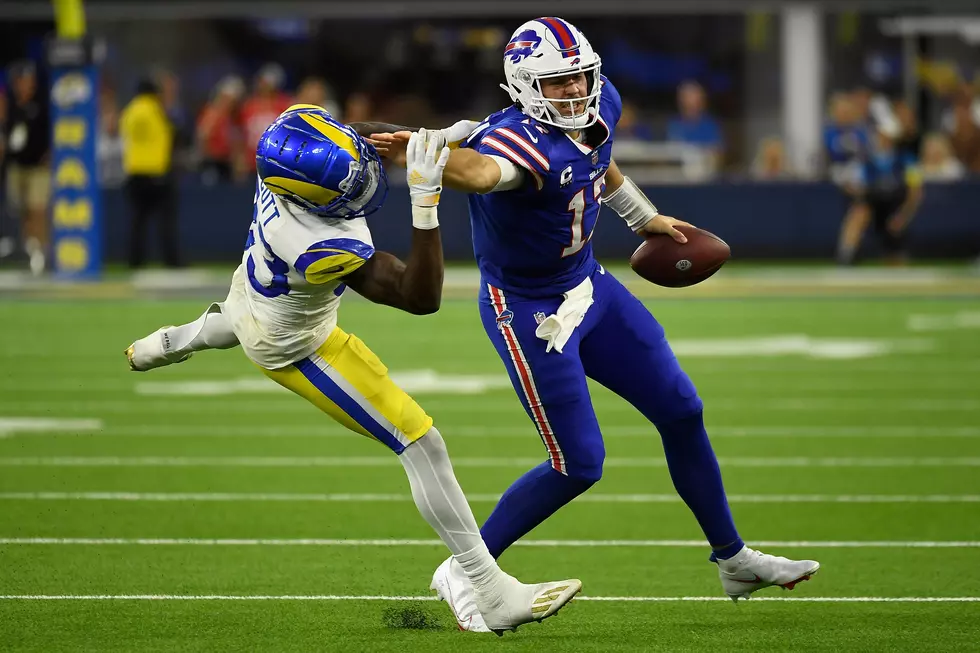 Buffalo Bills Players Reaction To Josh Allen Stiff Arm Caught On Camera [VIDEO]
Getty Images
Week One of the NFL season is in the book and there were plenty of highs and plenty of lows.
One of the biggest highlights came on Thursday's opening game where the Buffalo Bills rolled past the defending Super Bowl champs the Los Angeles Rams.
Bills quarterback Josh Allen was running and trying to get a first down when he stiff-armed a Rams defender right out of the way. People all across the country reacted with an "ooooohhhhh" went it happened.
But how did the players react? The camera happened to be on Buffalo Bills defensive stars Von Miller and Tremaine Edmonds and their reaction to the stiff arm will leave you in stitches.
  It is not often that you see a quarterback throw down another NFL player like a sack of rice. But this isn't the first time that Josh Allen showed off his amazing athletic ability. He has been known to hurdle defenders and lower his shoulder to get an extra yard or two.  
HERE.
Up next for the Jumpin' Josh Allen and the Buffalo Bills will be their home opener on Monday as they play host to the Tennessee Titans.
The 5 Best Punters In Buffalo Bills History
There has been a lot of talk about punters in Buffalo this off-season. Here are the Top 5 punters in Buffalo Bills history based on average yard per punt with at least 101 punts as a Buffalo Bill.
6 Names Western New Yorkers Call Bills Stadium
The Buffalo Bills have been around for a long time and ever since they moved to Orchard Park, Western New Yorkers have called the stadium several different names.
The 5 Worst Suburbs In Western New York
Life is not all about competition but as soon as you put out a ranking system, it sure turns into it.