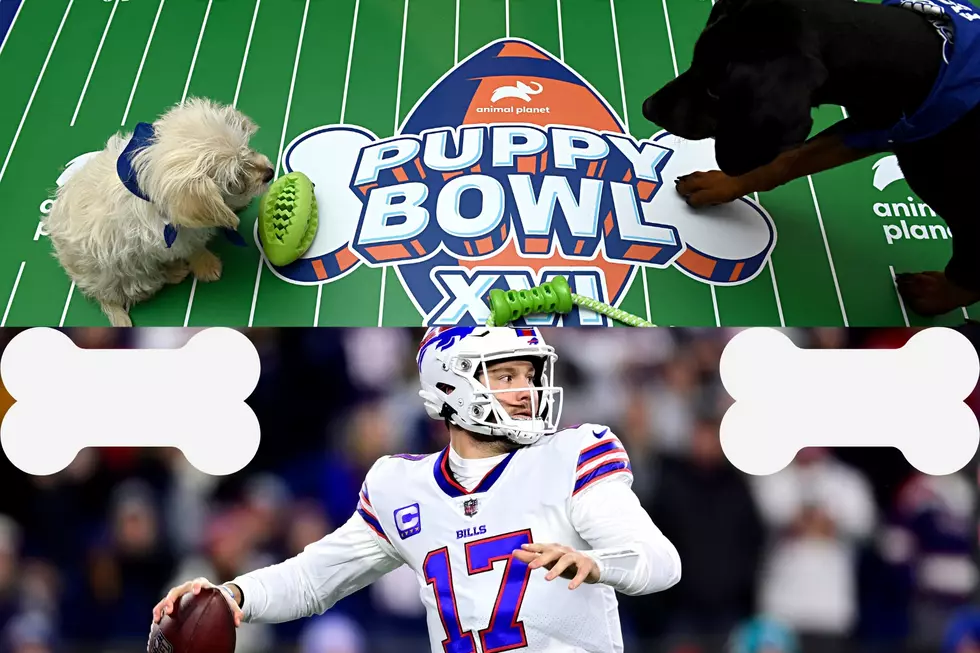 Josh Allenhound and Darcy To Compete In Puppy Bowl!
Getty Images / Canva
It's going to be ruff…predicting which adorable puppy will win the 2023 Puppy Bowl!
Sunday, February 12 is going to be the best day ever for Buffalonians for at least two reasons…besides the Buffalo Bills potentially playing in the Super Bowl, two of Buffalo's finest rescue dogs will compete to win all the bones in the adorable, paw-sized football game.
Josh Allenhound and Darcy of Buddy's Second Chance Rescue will make their agile and athletic TV debut on Animal Planet for Puppy Bowl XIX, in their version of puppy stadium football – complete with announcers and game commentary. One of Buffalo's football pups may even scamper away with an MVP trophy!
According to Discovery, the puppies will compete on either Team Ruff or Team Fluff, and will compete for the illustrious Lombarky Trophy.
Discovery also debuted the roster of pups. Josh Allenhound and Darcy's competitors feature Asiago, Majesty and Cheeky Tinker on Team Fluff, and Daisy, Dakota and Dalton on Team Ruff. Altogether, there are 122 fierce competitors who want to win it all, but with a name like Josh Allenhound, we know who the top seed puppy QB1 is!
The Puppy Bowl was created to promote animal rescues and animal adoption, and Buddy's Second Chance Rescue will have the chance to highlight their work on a national scale, and help the two Buffalo stars of the show, and their many other rescue animal counterparts, get adopted. Established in 2013, Buddy's Second Chance pairs rescue dogs throughout the country with foster families until they can find forever homes for the dogs, with the intent of minimizing kill rates.
We can't wait for so many worthy dogs to find their furever homes…and to see our two hometown competitors compete in the Puppy Bowl!