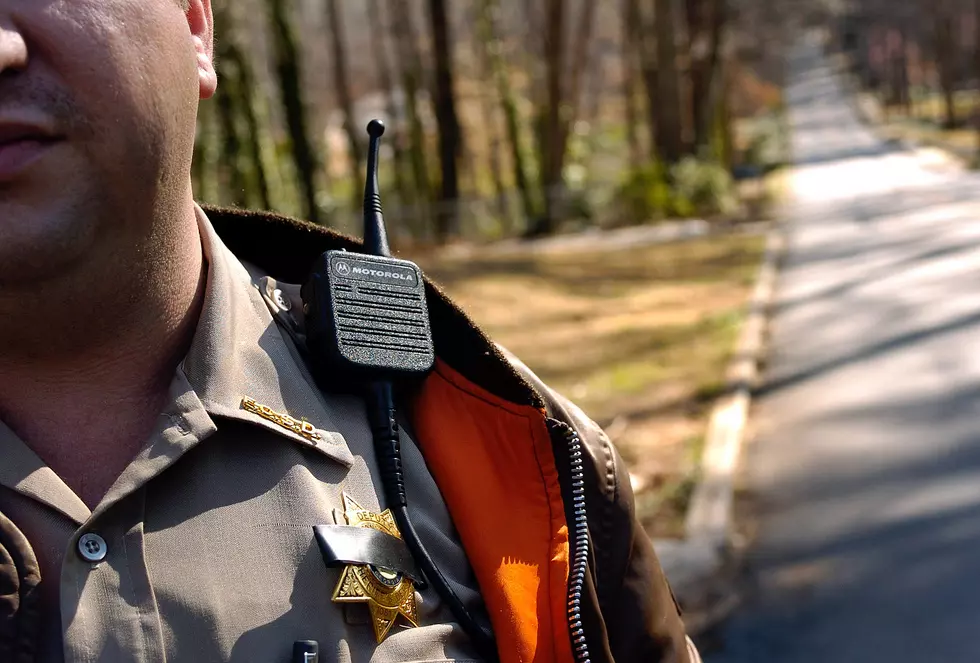 New York State Wants To Make It Illegal For Police To Hide Their Identities
Getty Images
If a New York Assembly bill passes, police in the state could be fined for covering their badges, to intentionally hide their identities. Assembly Bill A10721 and Senate Bill S3701 would punish officers with a hefty fine. The bill, which is currently in the Assembly Codes Committee, is sponsored by Karines Reyes - Assembly District 87.
Some police cover their badges or intentionally hide them, especially during protests, to prevent people from identifying them. According to LawFare, police are not obligated to identify themselves,
Broadly speaking, law enforcement officers do not have a legal duty to disclose either their identities or their agencies of affiliation, even if asked directly.
Some cities and towns do require law enforcement to identify themselves. In New York City, The Right to Know Act, which took effect on October 19, 2018, states that an officer with the New York City Police Department must provide their name, rank, command, and shield number at the beginning of certain interactions with citizens. Officers must also have their identifying information available on a business card. However, not all municipalities in New York have this requirement of police.
The Bill Could Make It Illegal To Hide Badges And Make It Punishable By A Fine
Assembly Bill A10721 says,
Prohibits members of the state police, police officers, and peace officers from intentionally covering their badges.
Any officer reported for violating the law would be fined $500 for each instance. If passed, the law would create a telephone number that New Yorkers could call to report any officers violating it.
Top 5 Crimes Committed in New York
These 7 Prisons Are The Most Violent In New York State
New York released a
report
with the most recent number of violent assaults on inmates in state prisons. There were 134 inmate deaths noted in the report, although it doesn't break down the prisons where each death occurred or who caused them. Here's a look at some of the general violent incidents reported for 2020, which is the most recent data reported by the state. Compared to 10 years ago, inmate assaults have almost doubled. In 2011 there were 666 and in 2020 there were 1,205 reported. These numbers do not include inmate assaults on staff members. Overall, the number of unusual incidents includes things like assaults, deaths, accidents, sexual misconduct, and disruptive behavior.  According to the state,
"The number of unusual incidents has increased 132% from 5,980 in 2011 to 13,870 in 2020. These higher incident numbers were largely due to increases in assaults on incarcerated individuals (+81%), assaults on staff (+86%), contraband (+130%), disruptive behavior (+372%), and staff use of weapons (+1,035%)."
In 2020, 1,836 weapons used to cut or stab, including ice picks, razor blades, can lids and shanks were discovered in state prisons around New York.
Violent Gun Crimes Are The Worst In These 11 New York Counties