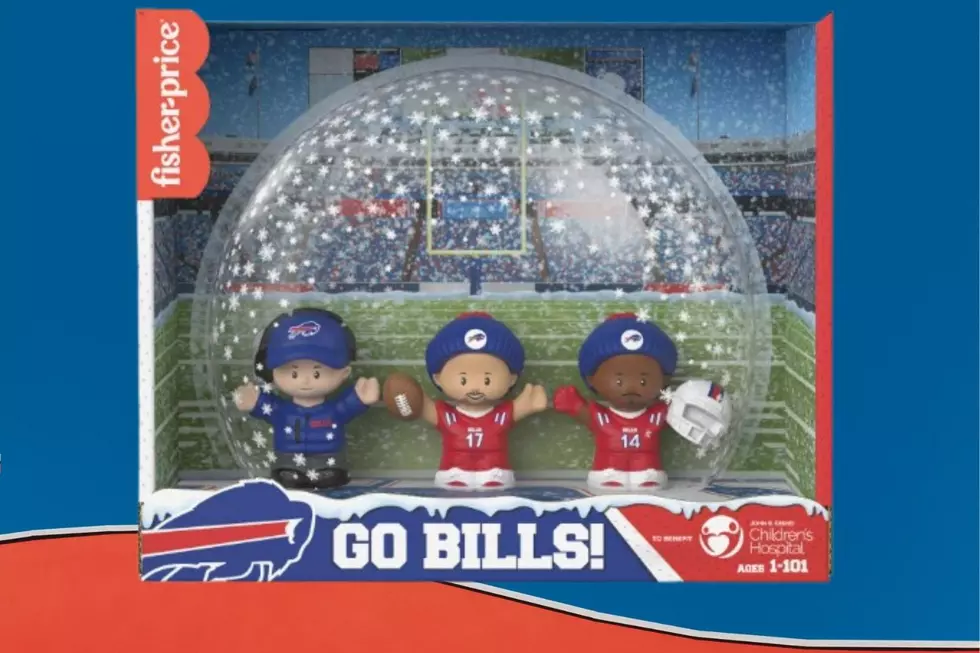 Wegmans Holding Little People Bills Event Tomorrow In Buffalo
creations.mattel.com/Canva
With the Buffalo Bills looking better than ever this season, fans have been clamoring to get their hands on the exclusive Bills merch that Wegmans has been selling this year. 
The Bills Mafia Tailgate sauces and spice rubs, available exclusively at Wegmans, have been flying off the shelves, with proceeds benefitting Oishei Children's Hospital through the Patricia Allen Foundation. 
Even more elusive and tough to find have been the limited edition 2022 Fisher-Price Little People Go Bills set. This adorable set from Buffalo's own Fisher-Price that your kids will love to play with (or for you to keep protected in the box on your shelf) comes with three mini-figurines of Josh Allen, Stefon Diggs, and head coach Sean McDermott. 
100% of proceeds from this set of Little People also support the Oishei Children's Hospital via The Children's Hospital of Buffalo Foundation.
After the set's release on September 6th, stores in Buffalo, Rochester, and Syracuse that carried it almost immediately went out of stock.
Here's some good news if you've been looking to get your hands on the Fisher-Price Little People Go Bills figure set.
Tomorrow (Saturday) September 10th, the Wegmans store on Amherst Street in Buffalo will be having an exclusive event to celebrate the release of these hard-to-find toys. 
From 11 am -1 pm, you'll be able to purchase your very own 2022 Fisher-Price Little People Go Bills set (while supplies last). To make the event even more exciting, Billy Buffalo will be making an appearance, too!
Wegmans Fisher-Price Little People Go Bills Event
Saturday, September 10th
601 Amherst St, Buffalo, NY
11am - 1pm
If I were you, I'd start lining up now at the Amherst St. Wegmans now!
Can You Name All Of These Famous Mascots From Western New York?
How many of these iconic mascots of local sports teams, restaurants, and more can you name?