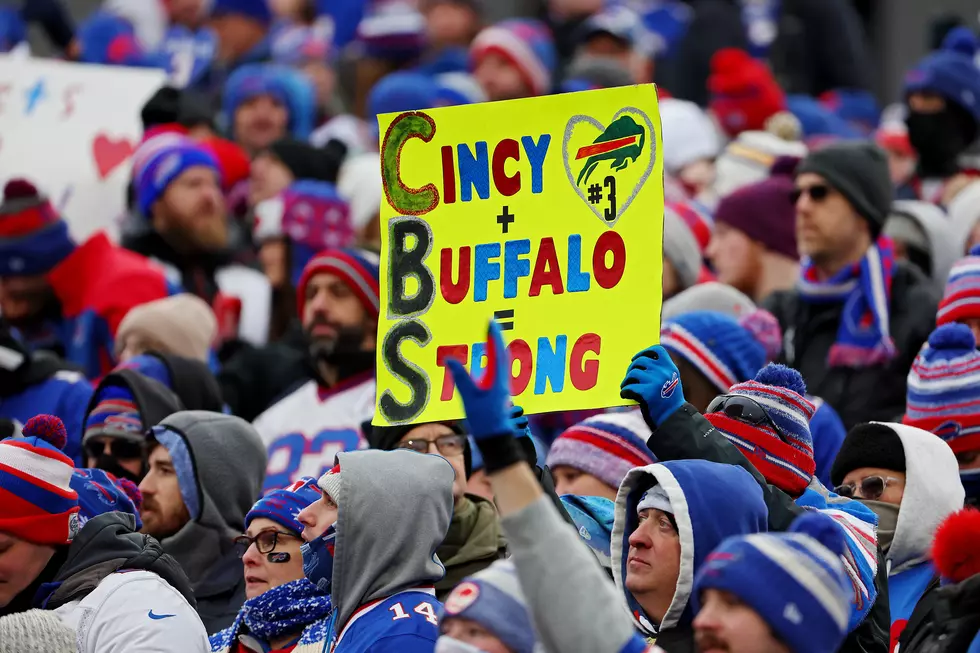 Buffalo Waterfront Gets Another Damar Hamlin Snow Sculpture
Getty Images
Damar Hamlin's recovery is very much still on the forefront of Buffalo Bills fans' minds as well as the nation's.
To celebrate Hamlin's continued healing and special place he has in Buffalo, snow sculptor and Food Network competition champion Eric Jones sculpted a giant-sized Hamlin ahead of last week's playoff victory against the Miami Dolphins. This sculpture was displayed at Buffalo Waterfront, but was however removed, because the display was damaged by unknown causes.
Jones, who also previously created Josh Allen snow sculptures and pumpkin carvings, decided that Buffalo Waterfront needed a second version, though. Ahead of this weekend's playoff game, Jones rebuilt and created another version of the Hamlin snow sculpture.
The previous figurine showed Hamlin shaping his hands in his well-known heart signal. This latest design shows Hamlin flexing muscles, with a heart drawn on his jersey. Snow around the sculpture of his body displays "Go Bills." Jones posted a video tonight on his Instagram account where he went back to Buffalo Waterfront to touch up the sculpture and ensure this second Hamlin sculpture iteration was in good condition ahead of the game.
 

 

 

View this post on Instagram

 

 
A fan commented on the video, "You are amazing! Thanks for sharing your talent and passion with Western NY."
Tomorrow, the Buffalo Bills face the Cincinnati Bengals in what is already a nail-biter AFC Divisional round game. We're all rooting for a great win and a great week ahead. As we previously covered, former NFL safety Eric Weddle of the Los Angeles Rams believes the Bills will win tomorrow. We know that you're right, Weddle.