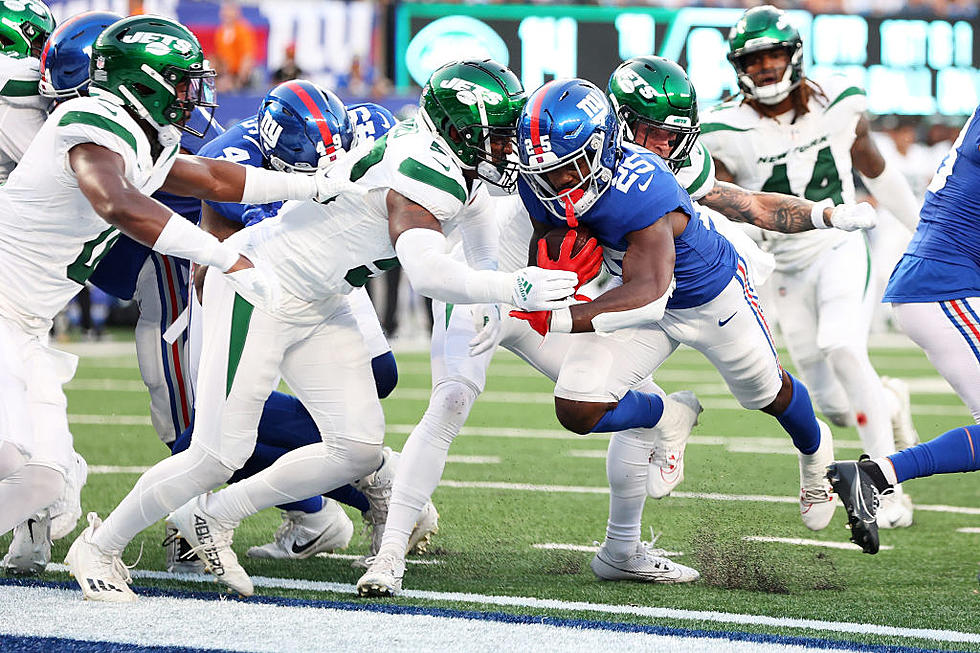 Open Letter to the Jets and Giants: Give New York Its Name Back
Getty Images
We've got a bold statement to make, one which you may have heard before, but it needs to be said again and again until it sinks in: New York only has one football team!
Since New York only has one football team, it's well beyond time for the other two New York football teams to stop pretending to represent our state and finally claim where they are actually from, which is New Jersey.
So, let's make sure we're all working from the same facts:
The Buffalo Bills are the ONLY NFL team in New York.
This may be a hard fact for some of us to accept, especially since New Yorkers take their sports teams seriously.
New York Loves Its Sports
I get it. It doesn't matter if it's Hockey, Baseball, Basketball, Lacrosse, Soccer, or Football; being from New York means you have a favorite sport and team, the team is engrained in your DNA, and you wear your fan status with pride.
Whether you are full of Brooklyn Grit or breathe Pinstripes. You might have the Knicks Tape on repeat or just randomly yell out hey-ayyyyyyy-ayyyyyyyy-ayy!, there is just something about cheering for your favorite New York sports team.
Understanding these things makes it quite easy to understand why so many of us continue to accept two sports teams who are so New York and still claim New York, but abandoned us years ago.
Hey Jets and Giants, It's Time To Let It Go
Remember, the Jets and Giants act like that ex-wife who divorced you, but insists on keeping your last name and continues to interact with all of the friends you had when you were married. Plus, they moved in with someone new who they claim is better than you, but they are far less attractive than you are, they smell funny, and they still won't give you back your favorite sweatshirt.
The Giants ditched New York in the 70s when they began playing their games at Giants Stadium in the Hackensack Meadowlands section of East Rutherford, New Jersey. The Giants headquarters has also been located in East Rutherford since 1976 as well.
The New York Jersey Jets weren't that far behind when they too dumped New York and Shea's Stadium in the early 80s. The Jets moved their headquarters to Florham Park, New Jersey, and subsequently decided to be stadium roommates with the Giants in the Meadowlands for the last 40 years.
Now, don't get me wrong, no one is saying not to be a fan of the Jets and Giants, it's just time for them to accept that they are no longer New Yorkers.
So go back to Jersey and give us our name back.
The 10 Top Sports Teams Based in New York State
Gallery Credit: Ed Nice
Teams That Represent New York But Are Based Elsewhere
While they may have New York in their name, are they really New York teams?
Gallery Credit: Ed Nice